Last May, Melinda Gates sounded the alarm: in order to economically recover from the pandemic, the United States would need to drastically rethink its childcare system. "Everything that already made life hard for working families is about to get worse," Gates wrote. "It's no mystery who will bear most of the burden. It's women. It's always women."
Her grim prediction proved prescient as reports have continued to show millions of women being pushed out of the workforce, with working mothers amongst the most likely to bow out. The U.S. Bureau of Labor Statistics reported there were 2.2 million fewer women in the labor force in October 2020 than the year prior. It's nothing short of a crisis, one for which CEOs have been in search of solutions. One has a new approach: this month edtech unicorn Guild Education has unveiled the Beehive, an affordable childcare option housed in the same building as the 850-person Denver company. After successfully navigating years of regulatory hurdles, the company's cofounder and CEO Rachel Carlson will release the open-sourced plans for other tech companies follow suit.
"Every CEO I asked about opening a daycare said the insurance alone would be a nightmare," says 32-year-old Carlson, whose company provides education benefits for frontline workers. "That wasn't true at all. The actual difficulty is how hard we've made it to open daycares in commercial space. We took over 100 meetings with regulating bodies to get this thing open."
That's likely why the few employers that offer onsite childcare are mostly massive publicly-traded companies like Goldman Sachs, Disney and Boeing. The barrier to entry is high: companies must make all the necessary investments (right down to sourcing nap time mattresses with a specific thickness) before they are able to get a daycare license. For Guild, that meant pouring over $1 million into renting and retrofitting the facility without knowing if they would would ever be able to operate.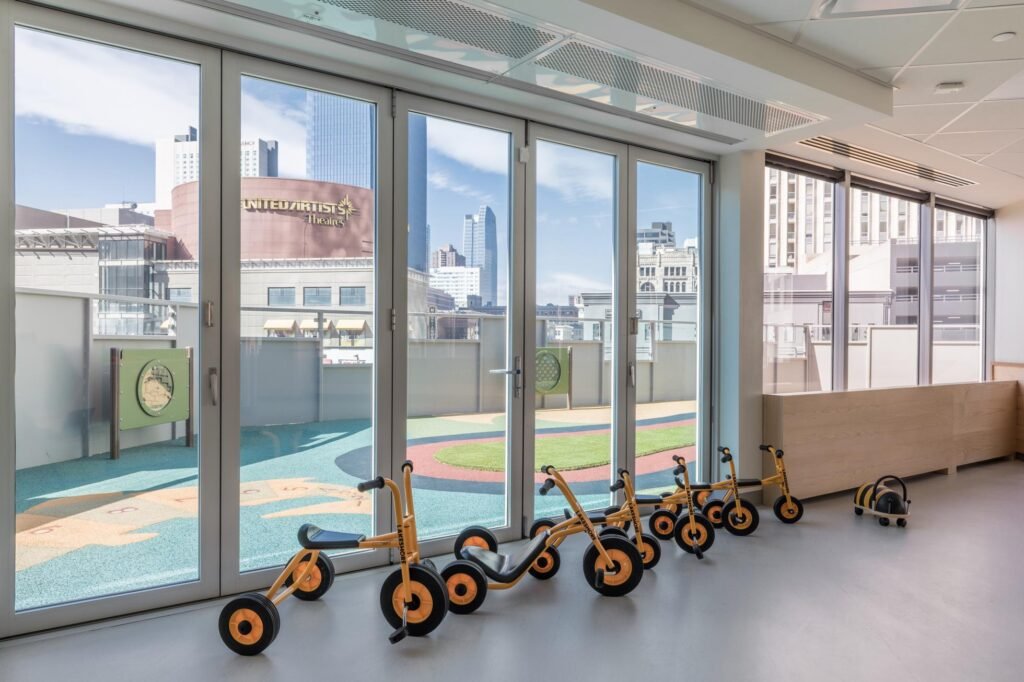 Most startups can't take that kind of risk or invest that many resources into a business endeavor not explicitly core to their company's success. As a registered B Corp, Carlson had an easier time convincing her board that it was worth the leap of faith. But she also contends that in addition to being the right thing to do, it can make economic sense for more traditional mid-sized employers.
Employee churn is expensive and slows down productivity. By better catering to working parents, Guild has managed to maintain a 96% retention rate amongst parents during the pandemic. Though Carlson says she has no intention of franchising the daycare business, she hopes to make the case for onsite childcare even stronger by providing other companies with a blueprint for opening their own. She is currently working with national non-profits and legislators to create a step-by-step guide that will expedite the process and help other leaders navigate the red tape that restricts many from embarking on the journey of opening onsite childcare.
"We are building a playbook that open sources everything we've learned for any company to replicate," says Carlson, who named the Beehive in honor of her grandmother Beatrice who founded a preschool back in 1964. "Guild believes in equitable and impactful employee experiences… So while we're not getting into the childcare business anytime soon, we do think we can have a pretty big impact by just open sourcing everything."
As businesses begin to reopen, Guild's Beehive has taken a phased approach with a soft launch beginning this month. Currently, it has 10 full-time staff supporting 15 children; by fall at full capacity, it will have 21 staff supporting 78 children. The facility is available to employees' children ages six weeks to six years, and charges fees using a tiered system based on household income. So far they have not experienced any Covid-19 outbreaks.
The daycare functions as a non-profit subsidiary of Guild, led by former Denver elementary school principal Julia Miller Shepherd. Every employee, as with the company's core employees, will receive equity in Guild. There's another way the Beehive maintains a strong connection to Guild: Carlson's own two-year-old twins are amongst the first preschoolers to enroll.
"Before even having kids, I wanted Guild to be a great place for working parents because I watched my aunts and mother struggle to make it work," explains Carlson. "So this is like a dream realized."