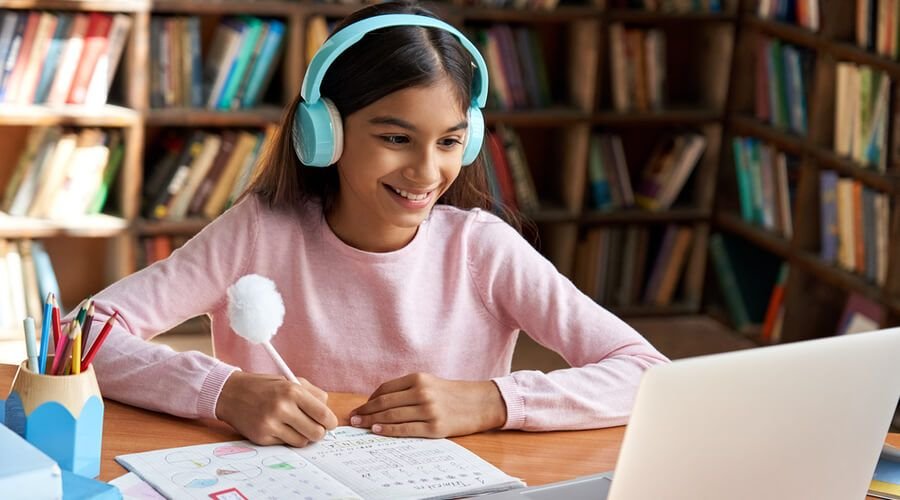 https://theindiabizz.com/wp-content/uploads/2023/11/serverplanet_offer.png
Top 8 Best EdTech startups in India are revolutionizing the country's educational landscape. They are redefining the educational process to ensure that students have a bright future. Read this article to know more about the best EdTech companies in India.
An uneven student-teacher ratio in India undermines educational opportunities for students. Learning apps driven by technology are adding game features like scoring points, engagement with others, and data-driven insights. It helps to improve the learning experience for students and their fundamental skills in a range of areas. The characteristics of these apps are well-known for helping learners perform better in the classroom. 
The words "Education" and "Technology" are combined to form "EdTech"  which is meant to enhance academic performance. The top EdTech companies in India are adopting virtual reality, films, robotics, interactive screens, and online courses to make education more engaging and approachable.
List of Top 8 Best EdTech startups in India for 2022
Top 8 Best EdTech startups in India is as follows:
Byju's is aiming to make studying enjoyable for students through interactions and 3D learning classes. This is one of the best EdTech companies that offer tailored learning programs. Learners may improve their abilities and study from India's best teachers at Byju's. They gained this advantage by redesigning their curriculum to accommodate students who study at home and by making their app user-friendly for students. Despite beginning with middle school science and maths tutorials, they have extended to include additional target groups. 
In partnership with Disney, they have launched Byju's Early preschool classes, and in partnership with Aakash Institute, they have launched customized JEE and NEET preparation materials. They also offer IAS preparation courses. As a result of this, Byju's now holds the #1 place among EdTech companies in India. 
Unacademy started its journey as a YouTube channel in 2010 by Hemesh Singh. This is now a well-known Edtech startup in India's education-technology industry. It is a well-known e-learning platform and one of the top EdTech companies in India. More than 30,00,000 learners have received education from Unacademy so far. To provide its students with tutoring, it has partnered with some of the most seasoned teachers. Over a thousand online courses are available on Unacademy. On this site, a majority of the courses are free, however, the certifications could cost money.
The objective of Unacademy is to offer education on every possible topic in multiple languages. Additionally, it has expanded into a wide range of industries, including pre-medical, banking, CAPF, CA, UPSC, CAT, CLAT, and more. Students can follow instructors to receive direct instruction from them by watching the video tutorials, which are accessible in various languages. The main component of Unacademy's business strategy is the platform's subscription option.
A Bangalore-based ed-tech business, Unacademy acts as an online learning marketplace for courses.  Roman Saini, Hemesh Singh, and Gaurav Munjal founded it. In 2015, the YouTube channel was moved to an online education platform. Numerous videos are still available on Unacademy's YouTube channel. The organization has more than 12,000 tutors and offers study materials for a range of academic and professional entrance tests. Unacademy instruction consists of free videos, PDF notes, and memberships. It offers a selection of both paid and unpaid courses.
3. iQuanta
India's largest online CAT preparation platform is called iQuanta. One of the top ed-tech startups in India started by the top five young entrepreneurs in India is Mr. Indrajeet Singh, CEO, and founder of iQuanta. He was known as the "Wizard of iQuanta" for his unique techniques. The mission of iQuanta is to make high-quality education affordable for everyone aspiring to take competitive tests. iQuanta is a bootstrapped Edtech firm.
Since its incorporation in 2017, iQuanta has grown to include 3.5 lakh aspirants from around the world, resulting in 10,521 IIM calls and conversions in just 5 years.
4. TrainerCentral
TrainerCentral seeks to revolutionize online education. This comprehensive online training platform enables solopreneurs, edupreneurs, and anyone who wants to impart their knowledge to students worldwide. TrainerCentral is one of the influential Edtech companies in India.
The platform offers tools to assist trainers in creating a fully functional online training company with a wide range of integration opportunities. On a single, integrated platform, instructors may build their websites, upload content, design course curriculum, conduct live classes, handle learner communications and certificates, take payments from learners, and much more. TrainerCentral works to reduce the inefficiencies brought on by isolated tools and the technical challenges associated with setting up an online training company. The in-built live classroom feature with payment and chat gateway connection options benefits both instructors and students.
5. UpGrad
UpGrad is one of the best Edtech companies in India. The business was founded by Mayank Kumar, Phalgun Kompalli, Ronnie Screwvala, and Ravijot Chugh in 2015. The business is the Startup India Program's official education partner with the Indian government.
The EdTech company offers working individuals, college students, and businesses, data science, and online programs in IT, management, and technology. Through affiliations with various renowned universities, UpGrad enables students to acquire skills that will advance their careers. They help students earn online degrees from the top colleges in the world and are also India's leading online higher-education provider. Their one-on-one coaching and placement support sets them apart. They provide MBA programs in many different subject areas, such as law, business, software, insurance, blockchain, and others. 
To provide B2B online corporate training programs, UpGrad acquired Pyoopil, a mobile Software as a service platform, in 2016. UpGrad is an ed-tech firm in India that purchased Acadview in 2018 to enter the higher education sector for college students. CohortPlus, an online community platform with an emphasis on data analytics and product management, was acquired by UpGrad in 2019.
6. Vedantu
Vedantu, a platform for live online education, was established in Bengaluru in 2011. The Sanskrit terms Veda (knowledge) and Tantu (network) are the origins of the word Vedantu. The company was founded by Saurabh Saxena, Anand Prakash, Vamsi Krishna, and Pulkit Jain.
It offers students individualized instruction. It primarily benefits students taking the Indian Certificate for Secondary Education (ICSE) or Central Board of Secondary Education in grades 4 through 12. Vedantu is known to be one of the best Edtech companies in India.
7. Classplus
With a single teaching software called Class plus, coaching organizations, tuition centers, and independent tutors may automate the distribution of information, payments, interactions, and online tests for their clients. Vatsal Rustagi,  Mukul Rustagi, Bikash Dash, Bhaswat Agarwal, and Nikhil Goel founded Class plus.
Class plus provides the ideal management software and mobile app solution for private tutors and coaching centers. The teaching and learning approach combines cutting-edge features and technology, preparing educators for the future. This firm, founded in Delhi in 2018, aims to modernize the nation's education industry. Due to its automated payments and straightforward coaching, Class plus has seen a 200K increase in subscribers. 
8. Embibe
Embibe was established in 2012 in Mumbai. Aditi Avasthi is the founder, and Reliance Industries Ltd. is funding this startup. It was developed to offer learners specialized support. Embibe has a freemium business model. All educational materials are provided without cost, only customized feedback is subject to a price. 
Top 8 Best EdTech startups.