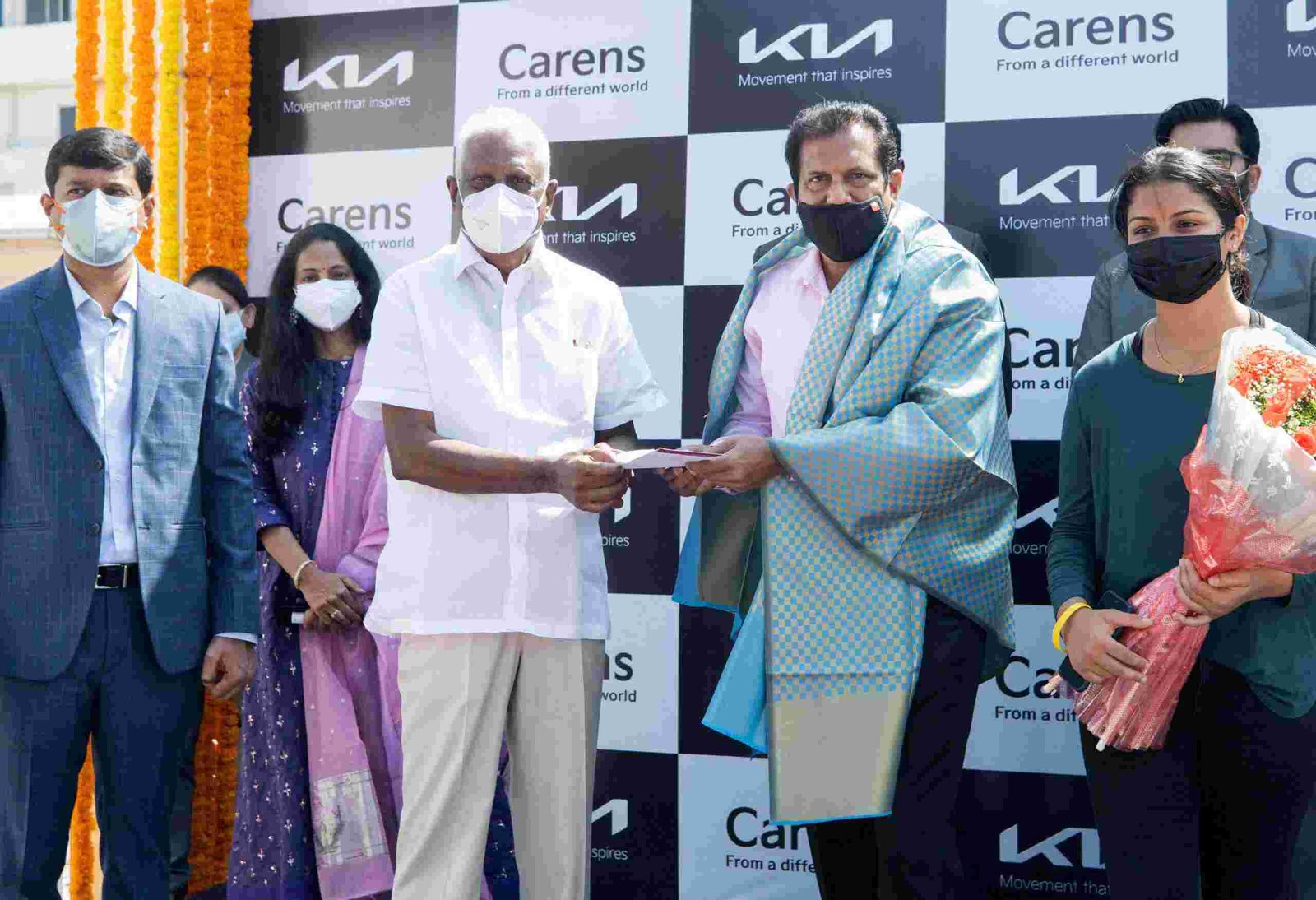 https://theindiabizz.com/wp-content/uploads/2023/11/serverplanet_offer.png
Hyderabad, February 23rd, 2022: Vihaan KIA, Hyderabad; the authorized dealer for KIA Motors at Hyderabad; handed over a record 40 newly launched KIA Carens vehicles to customers at its latest state-of-the-art Service Workshop and Bodyshop at Kukatpally, today. KIA Carens is an exceedingly stylish, spacious, safe and economical vehicle with the latest features.
It's an excellent value for money option. The newly launched exclusive Bodyshop by Vihaan KIA is located in a spacious 3 acres area, renders international standard car care and enhances the overall customer experience.
In a one of its kind Vehicle Delivery ceremony, through a memorable gesture, the keys of the new vehicles were handed over to the respective owners by representatives of four NGOs and Social Service Organizations; on behalf of Vihaan KIA, Hyderabad. The four NGOs, Amma Nanna Ananda Ashramam; Surge Impact Foundation; Samtrupthi Trust and Kriyasangh Society, were given the momentous opportunity to do the honours in recognition of the yeomen service they rendered to the society.
Mr Suneel Vadlamudi, Managing Director, Vihaan KIA; speaking on the occasion said We are launching KIA's latest offering, Carens, it's a smart and beautiful family vehicle, has all the safety features that the family needs to protect themselves. KIA Motors has been very successful since its inception. We started operations in June 2019.
I can say with pride KIA is revolutionising the automotive industry currently, the way Maruti revolutionised in the 1980s. Today KIA is the most respected brand in the automobile sector. We have almost a year's waiting period for vehicles now, which speaks volumes about how much traction the brand has and the respective customers are giving to the brand in India. Vihaan KIA crossed several milestones in the past two and half years, we are one of the largest dealers of KIA in India.
This is a newly constructed service facility in Kukatpally on three acres of land, it is by far the largest and landmark state of the art workshop in India and is launching it today. We have 40 customers here today to take delivery of Carens at the same time. Generally, on such occasions, celebrities are invited to do the honours, but we wanted to do it in a different way and called four service organisations, as they are the real celebrities for the yeomen service they do.
Our endeavour in involving the NGOs was to bring the real heroes to the limelight for their silent yet significant contribution in making the world a better place to live. Our customers too are pleasantly surprised and their delight has no bounds in receiving the keys from the representatives of the NGOs. There was an all-around appreciation for this novel vehicle delivery initiative, he says.
Later the representatives of the NGOs were felicitated on the occasion and as part of the Company's CSR initiative donations were handed over to them. Vihaan KIA handed over a cheque of Rs 5 Lakhs now and donated Rs 50,116/- on an earlier occasion to Amma Nanna Anaada Ashramam; donated Rs 1 Lakh to Surge Impact Foundation today in addition to the Rs 5 Lakhs presented during Covid wave; Samtrupthi Trust received 2 Lakhs for Cancer affected children meals program and Kriyasangh Society has presented Rs 2 Lakhs. The Company in all contributed Rs 15.5 lakhs to the four NGOs, including today's donation and in the past.
About Vihaan KIA
Vihaan KIA is the authorized dealer for KIA Motors in Hyderabad. It has showrooms at Kukatpally and Secunderabad and Service Workshops at Kukatpally and Nacharam. It has further strengthened its service infrastructure by adding the latest state-of-the-art Bodyshop at Kukatpally near Metro Cash and Carry, Prashanthi Nagar.
About the NGOs
Amma Nanna Anada Ashramam located atYadadri Bhuvanagiri Dist., aids mentally challenged, underprivileged, helpless, orphaned, homeless, evolve through their ways of conscience, habits and actions, besides giving them proper & healthy food, shelter and nurture.
Surge Impact Foundation, a Section 8 Company has worked extensively in Telangana and Andhra Pradesh and successfully launched a host of innovative and on-demand initiatives across sectors ranging from education, entrepreneurship, skilling, to disaster management, climate change, and child rights.
Kriya Sangh Society, a non-profit organisation based in Rasoolpura, provides innovative solutions to the problems faced by lower-income societies related to health, hygiene, skills & livelihood and the environment.
Samtrupti Trust,extends a helping hand to the cancer patients of the society, it is presently involved in providing nutritious meals daily in the paediatric ward of NIMS, besides medicines and other medical necessities to the poor patients.