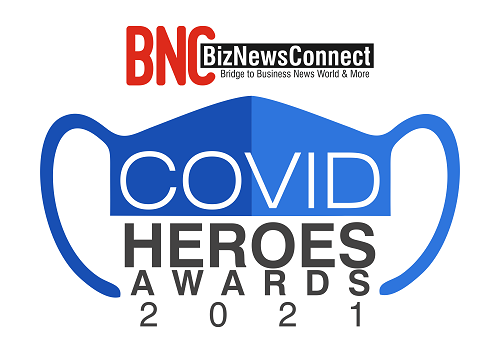 https://theindiabizz.com/wp-content/uploads/2023/11/serverplanet_offer.png
Awards open to corporates, communicators, frontline warriors

Deadline – March 12, 2021
International award-winning media start-up BizNewsConnect (BNC) has announced COVID Heroes Awards to salute the selfless, outstanding performance of frontline warriors, communication professionals and corporates amid the utmost difficulties dealing with the pandemic driven crisis.
COVID Heroes Awards
"These unforeseen and potentially life altering times demand an equally emphatic applause from all of us. BNC, a media start-up that brings to you stories that inspire and connect, has launched a series of COVID Heroes Awards that laud the extraordinary contribution by ordinary people," said B N Kumar, Editor-in-Chief of The Connect Series.
Promoted by media veteran Kumar, BizNewsConnect itself has been setup during the lockdown to provide an independent news and views platform.
An independent jury of BNC will judge winners on the basis of: positive response to lockdown, facilitation of work from home/ business continuity, groups or individuals reaching out to affected communities, helping the people stay connected during the times of distancing. profiles of courage, promoting COVID awareness through unique initiatives, innovative business ideas that have inspired an industry and the best use of lockdown period at home and away.
The entries, with a fee of Rs. 5,000 per entry, are open in three categories: An individual, group of people or an Organisation with an entry fee Rs. 5,000 for each nomination.
There is no fee for the fourth category Frontline Warriors covering Healthcare, Researcher, Government, Police, Armed Forces, Civic and Panchayat.
The Awards are open to: Corporates, communicators (media – print, electronic, digital – PR, Advertising, Film, Photographers, Videographers)
The submissions are to be done online only and the deadline is 9 PM (IST) March 12, 2021.
For entry form and payment options: biznewsconnect.com/covid-heroes.
About BizNewsConnect
BizNewsConnect is promoted by B N Kumar (BNK 24×7 to his friends) with close to 45 years of experience in mass communication.
Writer, columnist, media trainer and environmentalist, BNK began to write for media in 1975 itself when he joined his journalism classes at Osmania University. Later, he worked with Free Press Journal and United News of India. He started his PR career under the legendary Dhirubhai Ambani and was part of the team that set up Ogilvy PR (then O&M PR) – the first PR arm of an advertising agency in India.
He worked with Business India and The Week magazines and contributed content to The Times of India, The Economic Times, Indian Express, Mid-Day, Newstime, apart from Onlooker and SUNDAY magazines on a wide range of topics like business, science, space science, crime, films and politics – everything under the sky and above!
Now, he is focusing on social communication picking up environmental and civic causes. BNK also is on jury of various national and international awards.